What My Home Means To Me
02/09/2019
Saffron Hare, creative director and great great grand daughter of James Hare opened the doors to her Home in April's House Beautiful in 'What my Home means to me'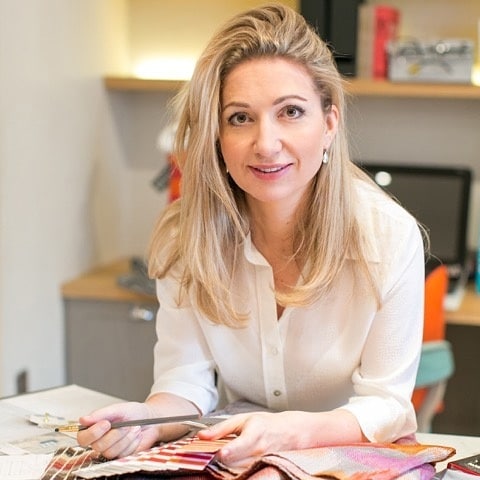 Born into a family of silk makers, it's no surprise that Saffron Hare, 44, uses rich colours and textures in the Harrogate home she shares with her two children, Oliver, nine, and India, seven

WHERE I LIVE
My five-storey Edwardian terraced house in the middle of Harrogate has been home for over a decade, and I've recently revamped it, bringing in a new, fun style. I fell in love with the location – just opposite Harrogate's lovely Valley Gardens – as well as its big windows.
Yellow units in my Clive Christian handmade kitchen were starting to look very old-fashioned, so I painted them a more contemporary shade of stone grey. I also added an island in the middle of the kitchen and a breakfast bar for the children.
I wallpapered the hallway using one of our James Hare designs in a textured weave with neutral stripes. It creates a lovely warm welcome when you step into the house.
Although it looked impressive, my old hardback sofa was uncomfortable. I bought a really soft one instead from sofa.com, covering it with our Carnaby Velvet fabric.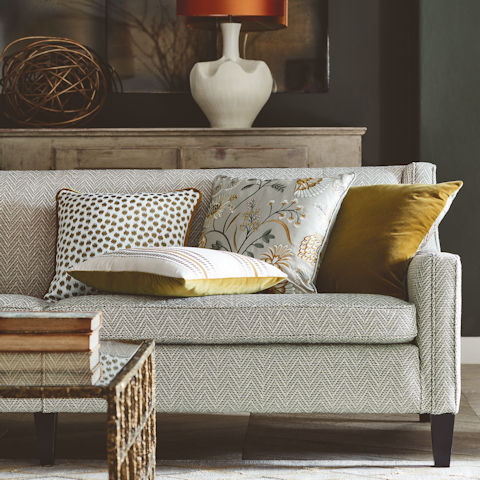 MY INSPIRATION
I was so lucky to be born into the James Hare family business and raised surrounded by colours and fabrics. I'm in charge of buying and direction. I always keep the walls in my house neutral so that twice a year, when I fall in love with our latest range, I can redo my cushions and accessories.
Travelling to India is part of my job and I love it, but it doesn't influence my interiors. It's all too easy to become wrapped up by the environment you're in and buy bright colours that don't quite translate to a British home.
Having studied history, I love incorporating pieces from the past into a modern home. In pride of place in our bathroom is the original sketch of our company logo – it's the horse and carriage that used to take my great-greatgrandfather, who founded the company, to work. It was the Ferrari of his day!
Growing up in a large house in the Yorkshire countryside, we always had lots of beautiful paintings on the walls. I really love oil paintings – they're a fabulous way of bringing colour into the house.
One of my favourite possessions is an imposing grandfather clock, given to me by my aunt. I find myself looking back to my childhood and striving to recreate a welcoming home for my own children.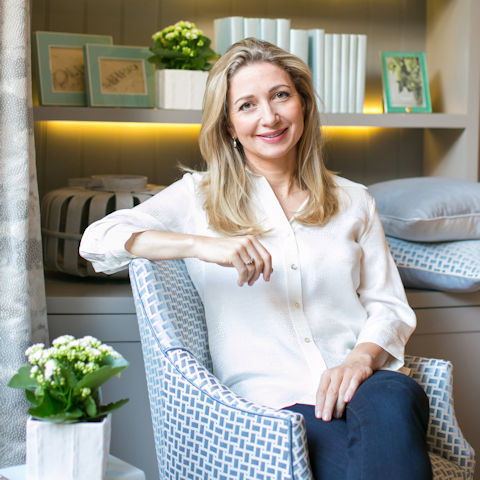 FAMILY LIFE
Nothing makes me happier than cooking good, hearty meals, with the children or my friends around so I can chat as I cook. I prefer round tables, so it's easy for everyone to join in the conversation. I bought one on the high street and had an extension made so it can seat 12.
It was important to me that the children had their own space, so in the basement there's a games room with sofas and beanbags, and skateboards hanging on the walls.
My retreat is my bedroom, where I can shut the door and relax. Sometimes, I go upstairs at 8.30 in the evening to watch television or read. I believe bedrooms should have calm surroundings, which is why I've chosen blues and greys to decorate mine.
We all love playing board games on a Saturday, so we'll often sit down for Monopoly. With friends popping in and out all the time, I love my loud, lively house.