In conversation with KT Tunstall
20/12/2018
After a two year hiatus Scottish singer KT Tunstall is ready to rock again and will be leading the Tartan Day Parade in New York, decked in James Hare's very own Royal Stewart Silk Tartan. We caught up with KT to hear all about the parade and what she is up to next.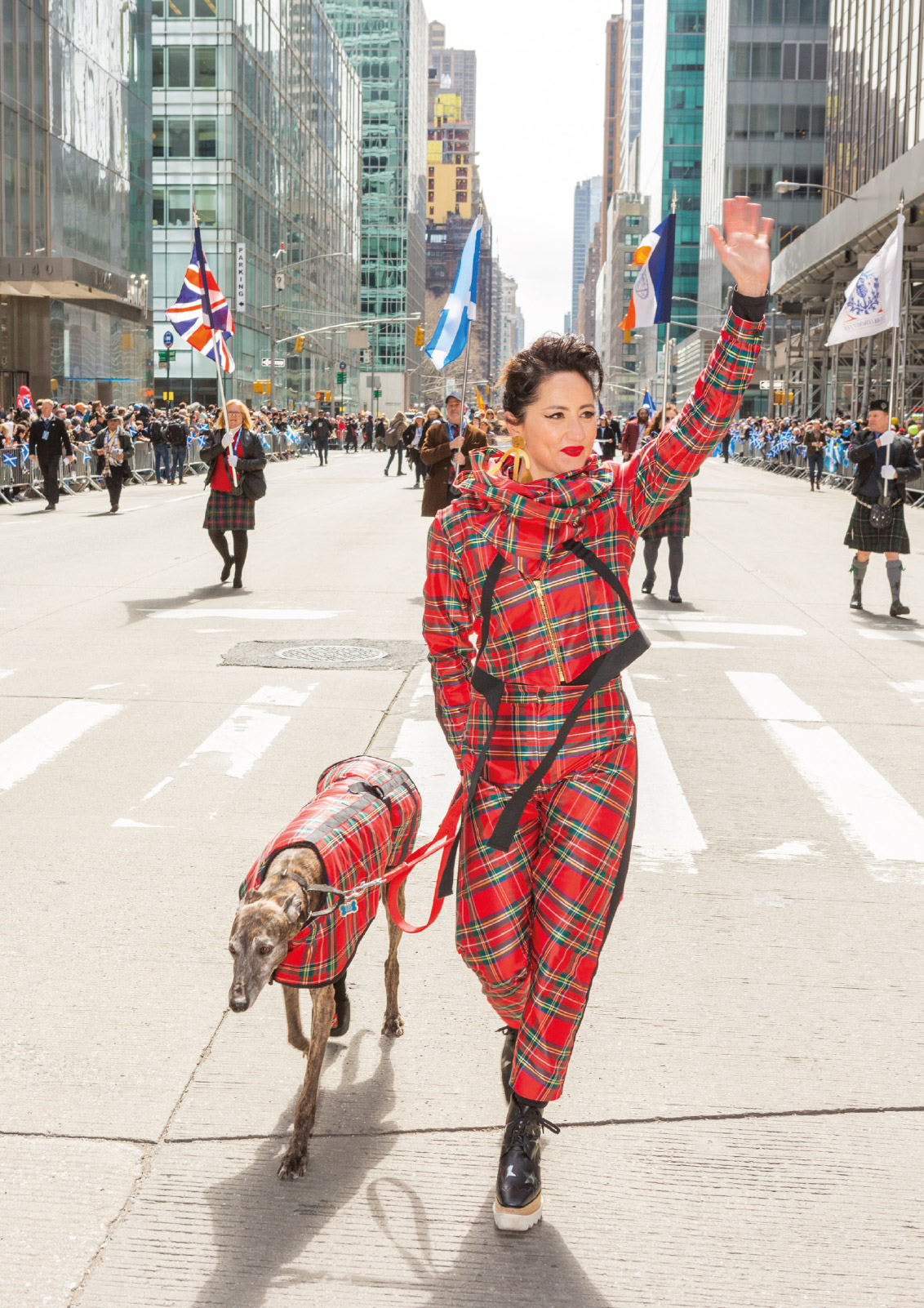 KT, we are obviously thrilled that you have chosen one of our silks for your Grand Marshal outfit for the 2018 Tartan Parade, thank you, but why Royal Stewart and could you describe the design you have created for this fabric.
"I was thinking about how to really stand out in what is going to be a SEA of Tartan moving down 6th Avenue in New York City!! I love the darker tartans - the beautiful dark blue and bottle green Gordon tartan, and James Hare's Black Watch is beautiful with the purple in it. But I feel that my job as Grand Marshal leading the parade is to be as visible as possible, so a more traditional bright red was an easy choice.
There's also a long and great relationship between red tartan and punk rock music thanks to designer Vivienne Westwood, so with the design I wanted to pay homage to her and the artists who used tartan as a rebellious element in their outfits.
The important thing for me is to wear an outfit that is very 'me' rather than dress in something purely traditional. So the design I worked on with my stylist Amy Alice Neill and talented tailor Felippe Johann is based on contemporary pieces from my own wardrobe."
The NYC Tartan Day Parade has reached its 20th year this year and you are the very first female Grand Marshal, how important is that for you especially in the current climate with so much discussion on female equality?
"I think it's really important. With the movement for gender equality sweeping the globe, all organisations and businesses are being forced to take stock of how they are structuring themselves now and how they have conducted themselves in the past. Part of the way forward is to ensure visibility of women in leading roles. I'm very glad that the NYC Tartan Day organisers have insisted that this year be a female Grand Marshal, and I hope to see many more after me. There is an endless list of inspiring Scottish women to choose from!"
You are going back on tour this year?
"I'll be playing some opening spots for some great artists - I'll be all over the UK opening for Gary Barlow in April and May, then heading to the US for a major road trip opening for the Barenaked Ladies, and then back to the U.K. for some epic outdoor shows in August and September with the mighty Simple Minds and The Pretenders."
Finally, will you be wearing the tartan outfit again?
"It may take a special occasion to wear the whole thing together! But I will definitely be mixing and matching with my usual wardrobe. As I said, there is nothing more punk rock than red tartan. I just need to add the safety pins!!"